Welcome to the Audio-Video Barn!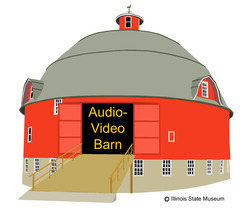 Audio-Video Barn
The Audio-Video Barn is full of stories about Illinois agriculture. It contains audio and video recordings of more than 130 oral-history interviews with people involved in agriculture and rural life in Illinois. It was produced by the Illinois State Museum's award-winning Oral History of Illinois Agriculture (OHIA) project. The OHIA project was generously supported by a National Leadership Grant from the federal Institute of Museum and Library Services (IMLS).
Hear - audio oral-history interviews from the 1950s-1990s (People page).
See - video oral-history interviews recorded in 2007-2009 (People page).
Locate - interviews in the Audio-Video Barn by county location (Map page) or by archive collection (Collections page).
Find - interview clips that interest you by searching the Audio-Video Barn for topics, names, dates, or named places (Clip Search page).
Look - at images of farming from the 1890s to today (Picture Gallery page) Also access a gallery on each interviewee's People page..
Learn - how to do oral history (Doing Oral History page).
Teach - with the Audio-Video Barn in the classroom and at home (Activities page).
Peek - behind the scenes to discover how the Audio-Video Barn was created (About This Site page).
Navigate - the Audio-Video Barn with help of the User's Guide (User's Guide page).
Need Help? - find answers to your questions (Frequently Asked Questions page).
Sit-Down InterviewsSit-Down Interviews
Walk-and-Talk Interviews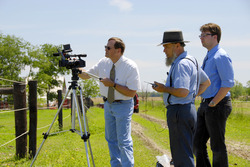 Walk-and-Talk Interview